About Brian Beirne –
"

Mr. Rock N' Roll

"

®
Brian Beirne, "Mr. Rock N' Roll" ® was honored after 5 decades on the air for his 29 years at Oldies Radio KRTH 101 in Los Angeles, which represented the longest continuous stint in FM radio history.  He is second all time in Los Angeles radio history for longevity at one station.
Brian has worked as news director, TV weatherman, and TV entertainment reporter, which won him the LA Press Club Award for the best entertainment reporting.  He has been Billboard Magazines Newscaster of the Year and has also won two additional Billboard awards for music specials, which he wrote, voiced and produced.  Beirne has been nominated for Oldies Personality of the Year by Radio and Records. He's had a long running weekly radio show in Tokyo and Nagoya Japan and he has been the voice of several national radio spots including the voiceover host of "The Beach Boys Summer Beach Party" TV Show.  Beirne wrote and hosted "New Gold on CD" a syndicated radio show for Westwood One as well as writing for Dick Clark's "Rock, Roll & Remember" radio show. Brian Beirne, Mr. Rock N' Roll, can also be seen co-hosting the morning show on AZ TV.
In 1991 Brian Beirne was honored with a star on the Hollywood Walk of Fame.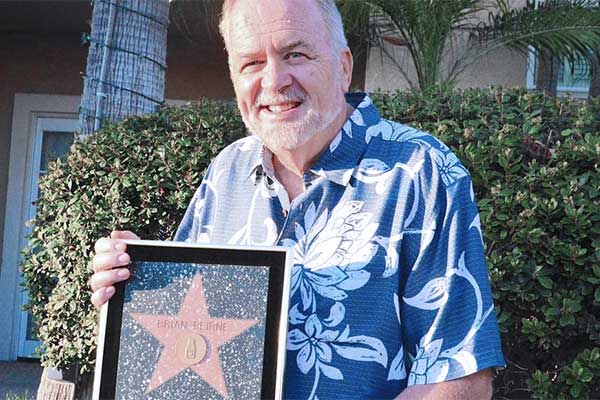 'Mr. Rock N' Roll' is in harmony with Newport Beach

Brian Beirne spent 29 years as a disc jockey (the longest continuous stint in FM radio history) playing oldies music for K-EARTH/101 in Los Angeles. You might know him by the moniker his listeners suggested because of his extensive knowledge of music and musicians — "Mr. Rock N' Roll."
You might also have seen his star on the Hollywood Walk of Fame.
Save
Please enter your contact details and a short message below and I will answer your inquiry as soon as possible.
Beirne is considered  one of the foremost modern music historians in America.  He was the host and producer of the long running "Legends of Rock N' Roll Concert Series" at The Greek Theatre in Los Angeles.  That series was the influence for the beginning of the PBS Doo Wop Specials.  He has also booked, produced and hosted concerts and events such as:
UNIVERSAL AMPHITHEATRE, Burbank, CA 10 Years
PACIFIC AMPHITHEATRE, Costa Mesa, CA
THE NUGGET, Reno, NV
THE AUTO SHOW, Detroit, MI
KNIGHTS OF COLUMBUS CONVENTION, 2 years
ORANGE COUNTY FAIR, Costa Mesa, CA
CITY OF GLENDALE CRUISE NIGHT, CA 8 Years
MORNINGSIDE CC, Rancho Mirage, CA
FREMONT STREET EXPERIENCE, Las Vegas, NV 6 Years
KNOTTS BERRY FARM, CA
DISNEYLAND, ANAHEIM, CA
ED DISTRICT, Prescott Valley, AZ
NEW YEARS LIVE ON PINE SQUARE LONG BEACH, CA
WORLD CUP LEGACY TOUR, Santa Monica, CA
WELK THEATER, Escondido, CA
MUSIC FESTIVAL IN THE PARK, North Hollywood, CA
PALA CASINO, Pala, CA
CANNERY CASINO, Las Vegas, NV
BALBOA BAY CLUB, Newport Beach, CA
HARRAHS, Reno, NV
USC FOOTBALL
NOTRE DAME COLLEGE FOOTBALL
TASTE OF ORANGE COUNTY, Irvine CA 6 years
SHADOW HILLS COUNTRY CLUB, Indio, CA
Brian continues to produce concerts around the country for private and corporate parties as well as large venues.
Brian Beirne is Mr. Rock N' Roll ® , his registered trademark.  Beirne's personal record collection has exceeded 40,000.  He is a longtime collector of movie and music memorabilia, a well-known Elvis Presley authority, has hosted hundreds of concerts, and is a walking Rock N' Roll almanac.  This legendary air personality continues to live Rock N' Roll.