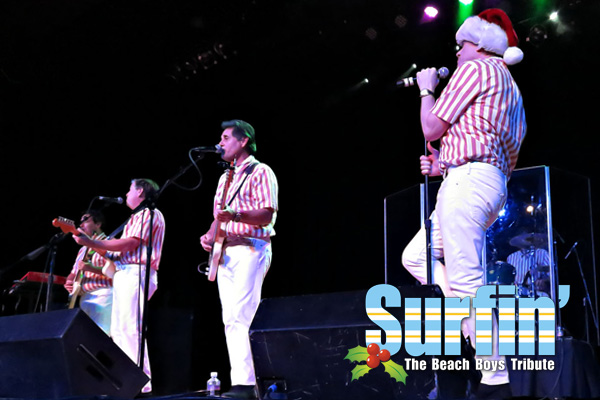 Beach Boys Surfin' Holiday Prescott AZ.

December 16. Surfin' The Beach Boys Tribute brings their new show filled with holiday hits to Prescott Arizona.- the Christmas City.  Come and hear our very own special "Beach Boys" arrangements of the holiday songs you love.
Surfin' Ultimate Christmas Concert at Don the Beachcomber

Huntington Beach December 20.  Join us for the unveiling of our NEW Christmas CD. Treat yourself to a night filled with Christmas Magic as Surfin' The Beach Boys Tribute serves up our special version of all the holiday Classics "Little St. Nick", "The Man With All The Toys", "Santa's Beard", "Frosty The Snowman", "White Christmas" and many more Christmas favorites along with the biggest Beach Boys hits.
Rockin' New Year's Eve 2017
Hosted by KRTH 101 Legend Mr. Rock N' Roll® Brian Beirne, the lineup includes Jan & Dean Beach Party Featuring Dean Torrence, who struck it big with Surf hits such as The Dead Man's Curve, Sidewalk Surfin', and Surf City. With You're the One, Vocal Group Hall of Famer The Vogues dazzled audiences in the '60s with smooth hits such as Five O'Clock World andTurn Around, Look at Me. Pop singing duo Paul & Paula are best remembered for the Billboard tunes Hey Paula and Young Lovers. We Five delighted with You Were on My Mind and Let's Get Together. The evening includes a special mystery guest . This shows ends at approximately 10:30 PM and does not include a New Year's celebration at midnight.